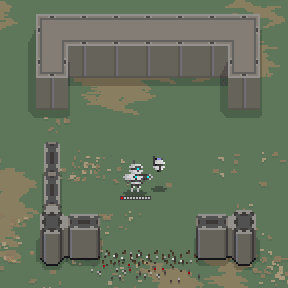 Overview
Edit
Missile Launcher is a Weapon, and on use will create a scanning area around the Rover. Enemies that enter the area will be targeted, and after a small interval, rockets will be launched at them.
Early on, this weapon can struggle a lot, the missile launcher has trouble keeping up with all the quick and homing enemies thrown at it. Though, later on, this weapon becomes very good, equipped with a Charger and a Ultra Chip, the player only has to hold LMB and worry about dodging. Against bosses, the player can maximize their damage by resetting the scanning area around them after a rocket is launched to increasing the weapon's attack speed.
Level Bonuses
Edit
+4 ammo
-0.2 cooldown (rockets are launched faster)
Upgrading this weapon with a Ultra Chip will upgrade the missiles, making them set the area of explosion on fire.
If the players find this weapon early on, he should leave it until his main weapon is level 3.
This weapon especially struggles with Enemy 23's drones early on. Though, after fully upgraded, it won't be a problem anymore.
Ammo Box will allow the Missile Launcher to target more enemies at the same time.
After a recent patch, this weapon 1 shots turrets and walls which can prove to be very useful.
Gameplay
Edit